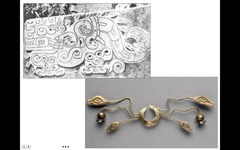 Chavìn de Huàntar
-Stone (architectural complex)
-granite (Lanzón and sculpture)
-hammered gold alloy (jewelry)
-Northern highlands, Peru. Chavín.
-900-200 B.C.E.
-function: complex was a religious capitol, Lanzón ("blade") was a ritual site (one hand raise to heaven, other to earth), and septum ring was for decoration, made to look like a jaguar's whiskers
-context: few ever got to see, but they still made the pilgrimmage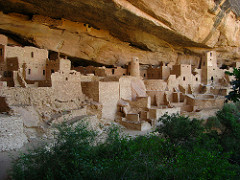 Mesa Verde Cliff Dwellings
-Sandstone.
-Montezuma County, Colorado. Ancestral Puebloan (Anasazi).
-450-1300 C.E.
function: habitation
context: Anasazi Art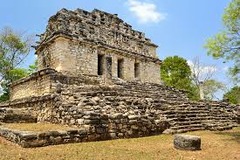 Yaxchilàn
-Limestone (architectural complex).
-Chiapas, Mexico.
-Maya.
-725 C.E.
function: city on high terrace, filled with important buildings
context: Yaxchilán is a significant Mayan center and largely dates to the Classic period (AD 250-900) and a number of its buildings are still standing. It was built by ruler Bird Jaguar IV.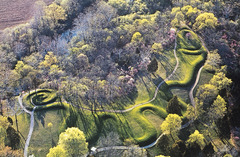 Great Serpent Mound
-Earthwork/effigy mound.
-Adams County, southern Ohio.
-Mississippian (Eastern Woodlands).
-c. 1070 C.E.
function: the head points to the summer solstice
context: snakes are associated with crop fertility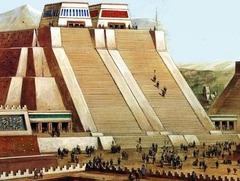 Templo Mayor
-Stone (temple);
-volcanic stone (The Coyolxauhqui Stone)
-jadeite (Olmec-style mask)
-basalt (Calendar Stone).
-Tenochtitlan (modern Mexico City, Mexico).Mexica (Aztec).
-1375-1520 C.E.
function: two temples on a pyramid, North dedicated to Tlaloc (God of rain, agriculture) and South dedicated to Huitzilopochtli (God of sun and war. There were braziers on top for sacrificial fires.
context: The Aztecs were known for their aggressive religion, which included blood letting and horrifying deities.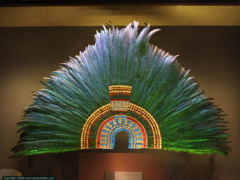 Ruler's Feather Headdress (probably Motecuhzoma II)
-Feathers (quetzal and cotinga) and gold.
-Mexica (Aztec).
-1428-1520 C.E.
function: for the emporer, king, or ruler to wear; it was a part of costumes and very important to culture for it was meant to be seen worn for movement (not static)
context: Long distance trade is happening, feathers came from birds in Costa Rica.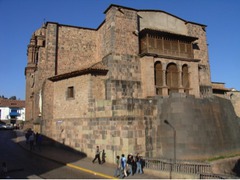 City of Cusco
-Andesite
-including Qorikancha (Inka main temple), Santo Domingo (Spanish colonial convent for nuns, ashlar masonry), and Walls at Saqsa Waman (Sacsayhuaman).
-Central highlands, Peru. Inka.
-c. 1440 C.E;
-convent added 1550-1650 C.E.
function: Santo Domingo — Temple of the Sun, religious site, it is said that the mummified bodies of precious Incan kings were kept here; Qorikancha — Golden House, most sacred shrine of the Inka, dedicated to worship of the sun, center of the empire; Walls — made the city in the shape of a puma (royal animal), the head was the fortress and the heart was the central square
context: While the Inka had many gods, they claimed descent from the sun, whom they called Inti, and held the sun's worship above all others.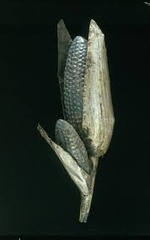 Maize Cobs
-Sheet metal/repoussé, metal alloys.
-Inka.
-c. 1440-1533 C.E.
function: to glorify corn/maize;
context: maize was king around that time; It mimics the appearance of a ripe ear of corn breaking through its husk, still on the stalk but ready to be harvested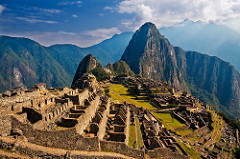 City of Machu Picchu
-Granite (architectural complex).
-Central highlands, Peru. Inka.
-c. 1450-1540 C.E.
function: built as a royal retreat for the first Inka emperor, Pachacuti Inka Yupanqui, in the 15th century, on a mountain saddle overlooking the Urumbamba River in Peru
context: This was a place where the emperor and his family could host feasts, perform religous ceremonies, and adminsted the affairs of the empire, while also establishing a claim to land that would be owned by his lineage after his death
also included
-Intihuantana — "hitching post of the sun" — track the sun
-The Observatory — used to calculate the June solstice and constellations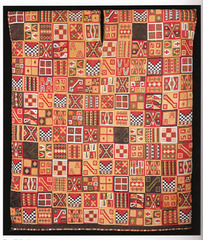 All-T'oqapu tunic
-Camelid fiber and cotton.
-Inka.
-1450-1540 C.E.
function: exchange of high-status goods, Inka expression of power (royal tunic), to be worn by those of high rank in society
context: textiles and their creation had been very important in the Andes long before the Inka came to power in the mid-15th century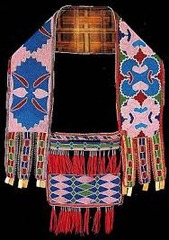 Bandolier bag
-Beadwork on leather
-Lenape (Delaware tribe, Eastern Woodlands).
-c. 1850 C.E.
function: functional and beautiful, crossbody bag to carry things
context: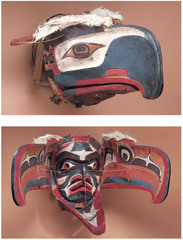 Transformation mask
-Wood, paint, and string
-Kwakwaka'wakw, NW coast of Canada.
-Late 19th century C.E.
function: mask worn over the head as part of costume, wearer can open and close the mask by strings during performance, at the transformation moment the mask is opened, hides the wearer's identity, gives wearer a connection to the supernatural world
context: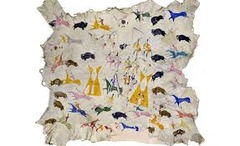 Painted elk hide
-Painted elk hide
-Attributed to Cotsiogo (Cadzi Cody), Eastern Shoshone, Wind River Reservation, Wyoming.
-c. 1890-1900 C.E.
function: worn over the shoulder of a warrior, depicted warrior deeds, accomplishments, heroism
context: painting on animal hides is a long standing tradition and is functioned to record history, was eventually made for European/American market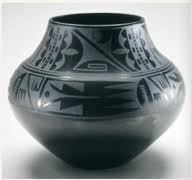 Black-on-black ceramic vessel
-Blackware ceramic.
-Tewa, Puebloan, San Ildefonso Pueblo, New Mexico.
-c. mid-20th century C.E.
-Artist: Maria Martínez and Julian Martínez,
function: pots were used in the Pueblos for food storage, cooking, and ceremonies
context: Maria Martinez was the best-known Native potter of the twentieth century 1887-1980 and she learned ceramic techniques that were used in the SW of 1000 years