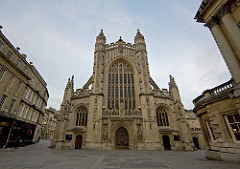 abbey
church of a monastery
abstraction
also "non-objective," "non-representational"–no recognizable subject
academy, academic
An institutional group established for the training of artists. conservative, highly realistic, technically excellent artworks.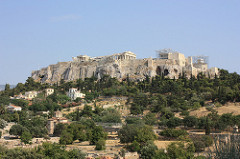 acropolis
A citadel or fortified part of an ancient Greek city, typically built on a hill.
aesthetics
the branch of philosophy that deals with "beauty"–what is it?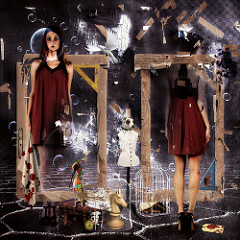 allegory
A representation of an abstract or spiritual meaning through concrete or material forms. an extended metaphor, or a personification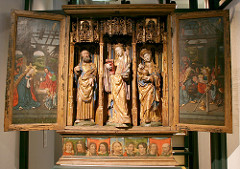 altarpiece
predella, wings, diptych, triptych, polyptych , a panel, sculpted or painted, situated above and behind an altar
appropriation
(borrowing); also recycled art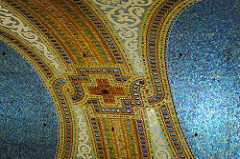 arabesque
Complex designs typical of Islamic art, combining intertwining plants and geometric patterns
abstract decoration. "Figurative" art (representations of persons) is not allowed in Islam–"Arab"
assemblage
three-dimensional "collage"–junk nailed together, A technique that involves grouping actual items (3D objects) in a display. The items may be found or specially created, and they are often displayed "in suti"- that is, in a natural position or in the middle of a room rather than on a wall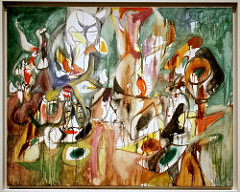 automatism
A technique whereby the usual intellectual control of the artist over his or her brush or pencil is forgone. Lets the subconscious take control to create the artwork no rational interference. Technique to reveal unconscious mind; like "doodling," letting one's hand wander without thought
avant-guard
ahead of time especially in the arts, That which creates or promotes innovate or unconventional ideas in a given field, especially the arts, The new or modern.
BC or BCE
before the years of christ or before common era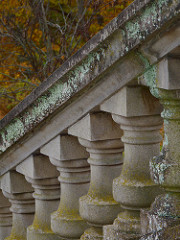 balustrade
a railing at the side of a staircase or balcony to prevent people from falling
baldacchin
a canopy on columns, frequently built over an altar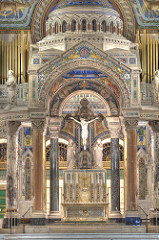 basilica
In Roman architecture, a civic building for legal and other civic proceedings, rectangular in plan with an entrance usually on a long side. In Christian architecture, a church somewhat resembling the Roman basilica, usually entered from one end and with an apse at the other.
Benday dots
named for inventor Benjamin Day, printing process uses pointillist technique of colored dots from a limited palette placed closely together to achieve more colors and subtle shadings
biomorphic abstraction
Biomorphist art focuses on the power of natural life and uses organic shapes, with shapeless and vaguely spherical hints of the forms of biology.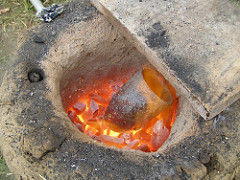 bronze casting
model in clay, coated in wax, cover in a mould, melt the wax out, fill with bronze, let solidify and break clay away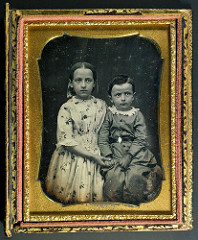 daguerreotype
An early photographic process invented in 1839 An image coated on a highly polished surface of silver coated onto a copper plate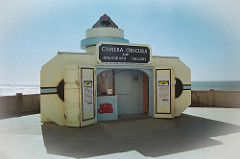 camera obscura
Invented in the sixteeth century, the camera obscura is made out of an arrangement of lenses and mirrors in a box (or room) that is darkened. When looking through the lens of a 'camera obscura', the view presented is actually reflected through the mirrors onto the paper or cloth and allows the artist to draw by tracing the outline. This forerunner of the modern camera was a tool for recording an optically accurate image, often of topographical detail (Canaletto used one to study his vedute prior to painting).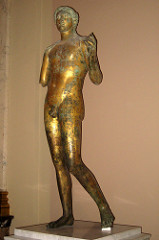 canon of proportions
a set of ideal mathematical ratios in art based on measurements of the human body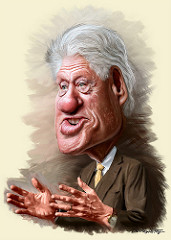 caricature
(n.) a representation (especially in drawing) in which the subject's characteristic features are deliberately exaggerated; (v.) to present someone or something in a deliberately distorted way
cartoon
Drawing made as guide for fresco, A full-scale drawing used to transfer or guide a design onto a surface to be painted, carved, or woven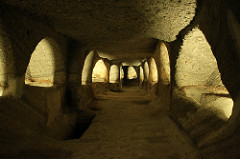 catacomb
An underground cemetery, esp. one consisting of tunnels and rooms with recesses dug out for coffins and tombs.
caves where early Christians worshipped, buried dead, and decorated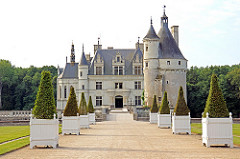 chateau
an impressive country house (or castle) in the style of France – the Biltmore has this style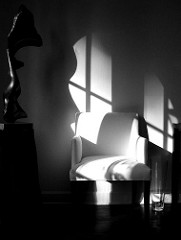 chiaroscuro
An Italian word designating the contrast of dark and light in a painting, drawing, or print.
parts of a church:
pier, triforium, clerestory, vault, choir, crossing, ambulatory, crossing, arms, chapel, colonnettes, engaged columns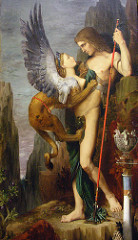 Classical art
Art in which harmony, order, and balance were emphasized, Art influenced by the styles and techniques of ancient Greece and Rome.
classicism
A movement or tendency in art, music, and literature to retain the characteristics found in work originating in classical Greece and Rome. It differs from Romanticism in that while Romanticism dwells on the emotional impact of a work, classicism concerns itself with form and discipline.
Neoclassicism
A style of art and architecture that emerged in the later 18th century. Part of a general revival of interest in classical cultures, Neoclassicism was characterized by the utilization of themes and styles from ancient Greece and Rome.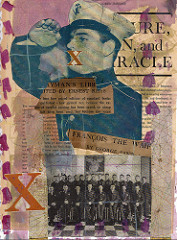 collage art
an artistic composition of materials and objects pasted over a surface, often with unifying lines, colors or themes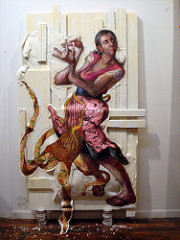 combine painting
An artwork that incorporates various objects into a painted canvas surface, creating a sort of hybrid between painting and sculpture.
composition
refers to how an artist organizes forms in an artwork (placing shapes on a flat surface or arranging in space)
connoisseur
an expert; one who is well qualified to pass critical judgments, especially in one of the fine arts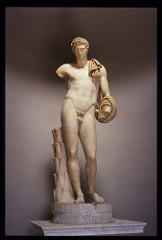 contrapposto
("counterbalance") It is the graceful arrangement of the body based on tilted shoulders and hips, one bent knee, and all the weight of the body placed on the "engaged" leg. Alternating parts of the body flexed and relaxed. It is a method developed by the Greeks to represent freedom of movement.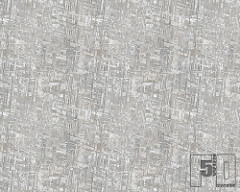 cross-hatching
Creating tonal or shading effects with closely spaced parallel lines. When more such lines are placed at an angle across the first, it is called cross-hatching. Artists use this technique, varying the length, angle, closeness and other qualities of the lines, most commonly in drawing, linear painting, engraving, and ethnic. Hatching is also referred to with the French word hachure.
cruciform
A term describing anything that is cross-shaped, as in the cruciform plan of a church.
cycle
a series of paintings, perhaps fresco)
subjects: the times of day, five senses, seasons, etc
diorama
life-size, three-dimensional scene from nature or history; three-dimensional scene with modeled figures against a painted background
an illusionistic scenic design of the 19th century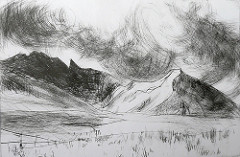 drypoint
An intaglio printmaking technique in which the design is scratched directly into a metal plate with a sharp, pointed, tool that is held like a pen.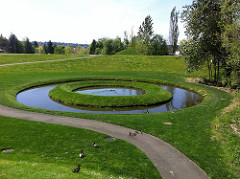 earthworks
artworks created by altering a large area of land using natural and organic materials. Earthworks are usually large-scale projects that take formal advantage of the local topography.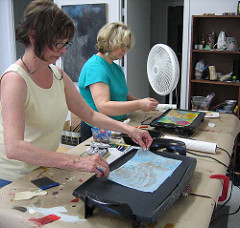 encaustic
A method of painting, which uses pigments melted with wax and fixed or fused to the painting surface with heat.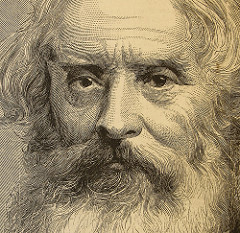 engraving
Art form in which an artist etches a design on a metal plate with acid and then uses the plate to make multiple prints
etching
An Intaglio printmaking process in which a metal plate coated with wax is drawn upon with a sharp tool down to the plate and then placed in an acid bath. The acid eats into the plate where the lines have been drawn, the wax is removed, and then the plate is inked and printed.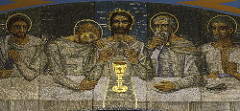 Eucharist
A ceremony of some Christian denominations that commemmorates Jesus' last supper with his disciples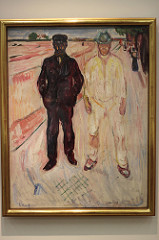 expressionism
A manner of painting, drawing, sculpting, etc., in which forms derived from nature are distorted or exaggerated and colors are intensified for emotive or expressive purposes.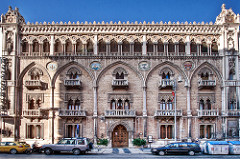 facade
Any side of a building, usually the front of entrance.
fete galante
French "amorous festival" a type of rocco painting depicting the outdoor amusement of French upper-class society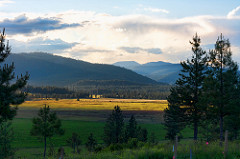 foreground, middle ground, background
the 3 grounds where you can place objects to create space
fine art
The visual arts customarily considered in Western civilization as "high" forms of artistic production (in other words, not useful like the applied arts.) They have traditionally included drawing, painting, and sculpture, but in the last two hundred years have also included outstanding examples of printmaking, photography, design, decorative arts, and crafts.
mechanical arts
tailoring, weaving, agriculture, architecture, masonry, warfare and hunting, "martial arts", trade, commerce, cooking, blacksmithing, metallurgy
flower piece
Still-life paintings in which cut-flower arrangements predominate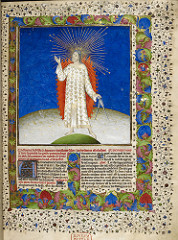 folio
Manuscript page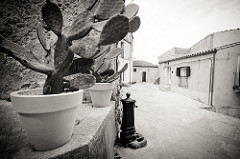 foreshortening
Foreshortening refers to the visual effect or optical illusion that an object or distance appears shorter than it actually is because it is angled toward the viewer.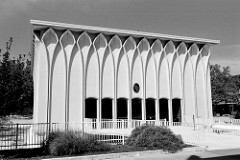 formalism
An approach to art that emphasizes the beauty of line, shape, texture, etc. as ends in themselves rather than as means to express content
framed niche
usually a place for statues; also called an aedicula,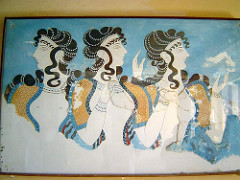 fresco
A technique of painting on walls covered with moist plaster. It was used to decorate Minoan and Mycenaean palaces and Roman villas, and became an important medium during the Italian Renaissance.
geometric abstraction
art movement of the early 20th century that stressed the two-dimensionality of painting as observed subjects were converted into geometric shapes
gesso
a white coating made of chalk, plaster, and size that is spread over a surface to make it more receptive to paint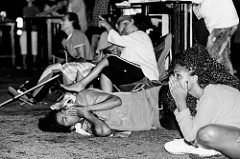 genre scene
pictures of lower classes or rowdy behavior
gesturalism
Style of painting and drawing in which the brushwork or line visibly records the artist's physical gesture at the moment the paint was applied or the liens laid down.
graffiti
wall markings; also an art style of the 1960's and 70's
Grand Manner
An elevated style of painting popular in the eighteenth century in which the artist looked to the ancients and to the Renaissance for inspiration; for portraits as well as history painting, the artist would adopt the poses, compositions, and attitudes of Renaissance and antique models.
Greek "hybrid" creatures
griffins, centaurs (half man/half horse), satyrs (men with donkey parts)
grisailles
"Gray Scale" A technique where a painting is made to look like a sculpture
happening
an art event or performance of the 1960's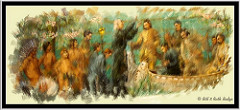 history painting
based on historical, mythological, or biblical narratives, and conveyed high moral/intellectual idea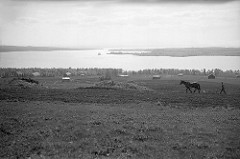 horizon line
The artists eye level in a drawing; imaginary line that separates the ground from the sky in a work of art
impost block
A stone with the shape of a truncated, inverted pyramid, placed between a capital and the arch that springs from it.
The Inquisition
A Court created in the Catholic church to discover and deal with heretics (also called the Holy Office)
icon
a painting of Jesus Christ or another holy figure, typically in a traditional style on wood, venerated and used as an aid to devotion in the Byzantine and other Eastern Churches.
a person or thing regarded as a representative symbol of something.
iconoclasm
the action of attacking or assertively rejecting cherished beliefs and institutions or established values and practices.
Destruction of religious images. In Christianity and Islam, iconoclasm was based on the Mosaic prohibition against making graven images, which were associated with idolatry. The making of portraits of Christ and the saints was opposed in the early Christian church, but icons had become popular in Christian worship by the end of the 6th century, and defenders of icon worship emphasized the symbolic nature of the images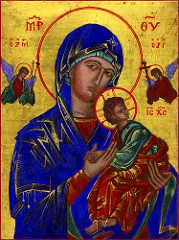 iconography
the traditional or conventional images or symbols associated with a subject and especially a religious or legendary subject