Art History Volume 1 4th Edition Marilyn Stokstad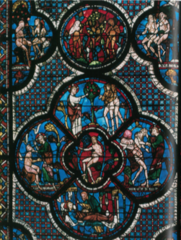 16-12 Good Samaritan Window with Scenes from Genesis, Chartres Cathedral
(Gothic art, 1150-1400)
The master who was responsible for several stained-glass windows in the southern side aisle of the nave in Chartres cathedral cannot be pinned down in the shape of a single artist. Rather, the windows can be assumed to represent the combined efforts of a large workshop.
Few visitors to France's 13th-century cathedrals are aware of the complex religious programmes which lie hidden in each pane of their colourful windows.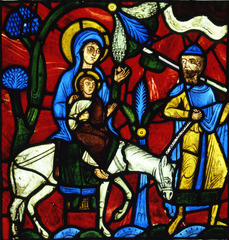 16-4 THE FLIGHT INTO EGYPT
(Gothic art, 1150-1400)
The Flight into Egypt, stained glass in a choir chapel, Notre Dame de Paris cathedral, Paris, France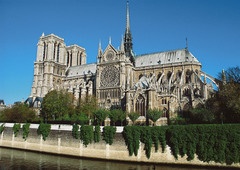 16-5 CATHEDRAL OF NOTRE-DAME, PARIS
(Gothic art, 1150-1400)
The Notre-Dame de Paris was among the first buildings in the world to use the flying buttress. The building was not originally designed to include the flying buttresses around the choir and nave but after the construction began, the thinner walls grew ever higher and stress fractures began to occur as the walls pushed outward. In response, the cathedral's architects built supports around the outside walls, and later additions continued the pattern. The total surface area is 5,500 square meters (interior surface 4,800 square meters).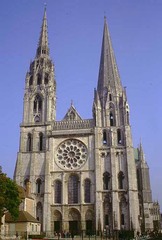 16-6 WEST FAÇADE, CHARTRES CATHEDRAL
(THE CATHEDRAL OF NOTRE-DAME)
(Gothic art, 1150-1400)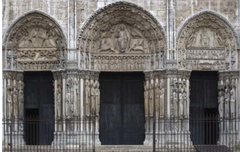 16-17 ROYAL PORTAL, WEST FAÇADE, CHARTRES CATHEDRAL
(Gothic art, 1150-1400)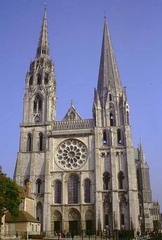 Chartres Cathedral
(Gothic art, 1150-1400)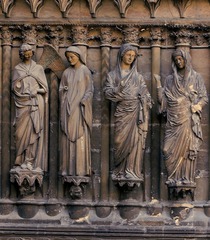 16-16 Annunciation and Visitation, Reims Cathedral central portal
(Gothic art, 1150-1400)
These statues (1230) are part of the central portal of the western façade of Reims Cathedral. The two figures on the left depict the annunciation with Gabriel looking at the Virgin Mary, the figures on the right represent the visitation of Mary to Saint Elizabeth.1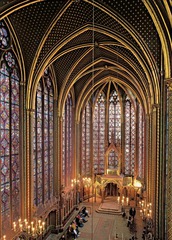 P. 509 Upper Chapel, Sainte-Chapelle, Paris
(Gothic art, 1150-1400)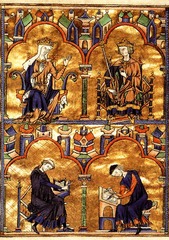 16-18 Queen Blanche of Castile and King Louis IX, Moralized Bible
(Gothic art, 1150-1400)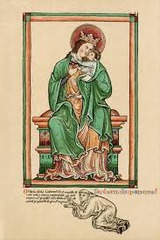 16-20 Matthew Paris, Self-Portrait kneeling before the Virgin and Child
(Gothic art, 1150-1400)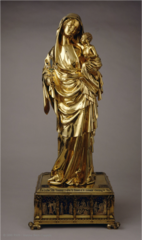 Virgin and Child (silver gilt and enamel, Louvre, Paris)
(Gothic art, 1150-1400)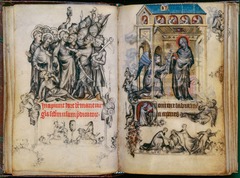 Jean Pucelle, Kiss of Judas and Annunuciation, Book of Hours of Jeanne d'Evreux
(Gothic art, 1150-1400)